Regular price
$69.00 USD
Sale price
$38.95 USD
Unit price
per
Sale
Sold out
Chicken Stained Window Hanging, Window Decor, Great Goft for Friends and Family
Whimsical and Charming Decor: The Chicken Stained Suncatcher featuring the image of chickens adds a whimsical and charming touch to your home decor. Its playful design can create a lighthearted and cheerful ambiance in any room, bringing smiles to those who see it.
Colorful and Artistic Appeal: Stained glass suncatchers are known for their vivid colors and artistic designs. The Chicken Stained Suncatcher's colorful depiction of chickens can add an artistic and eye-catching element to your living space.
Sunlight Reflection: As a suncatcher, it captures and scatters sunlight, creating beautiful patterns and hues when the light passes through it. The interplay of light and color can create a captivating visual display, especially on sunny days, brightening up your home with natural light.
Nature Connection: If you have an affinity for farm animals or enjoy the countryside vibe, the Chicken Stained Suncatcher can evoke feelings of a rural setting and a connection to nature. It can serve as a reminder of the simple joys of life and the beauty of the natural world.
Unique Gift: The Chicken Stained Suncatcher makes for a unique and thoughtful gift for anyone who appreciates farm animals, quirky decor, or stained glass art. It's a personalized and creative present that shows you understand the recipient's interests and adds a touch of personality to their living spaces.
Share
View full details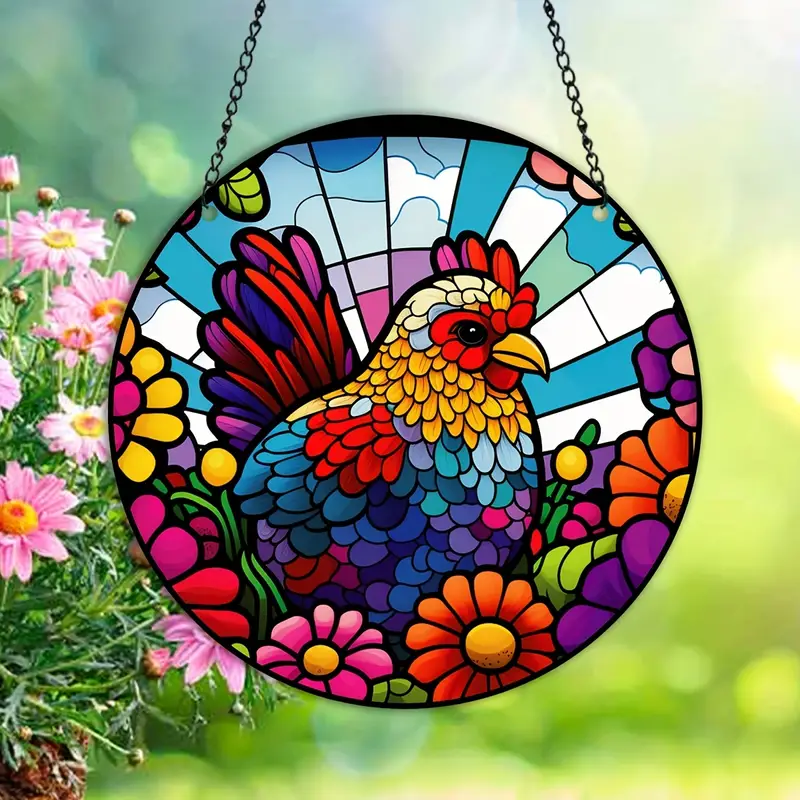 It is cute
My grandmother like it very much!