Regular price
$166.00 USD
Regular price
$300.00 USD
Sale price
$166.00 USD
Unit price
per
Sale
Sold out
【3 in 1 Multifunction】Our bedside sleeper can be used as a standalone bassinet, or side-sleeper bassinet, attached to an adult bed. Besides, it comes with detachable breathable mosquito net and extra storage bag which fits baby essentials like diapers, wipes, and more.

【Stable & Safe】Suitable from newborn to 18 months. We put your baby's safety first. This premium bedside bassinet is crafted with sturdy iron and aluminum frame. The wheels and the brakes system allow bassinet to move around easily or stand stably.

【Breathable & Comfortable】The bedside bassinet was manufactured with soft skin-friendly fabric with both side breathable mesh design for breathability and visibility. And the removable and machine-washable mattress is soft, pressure-resistant for comfort.

【Adjustable Height】5 height adjustment to fit all beds. Retractable feet with safety auto-locks allows the use with all beds that do not have space under the bed or which have space under the bed frame.

【A Must-have for New Parents】No tools needed while assembly, Portable and easily moved, you can take it into plane and travel.
Share
View full details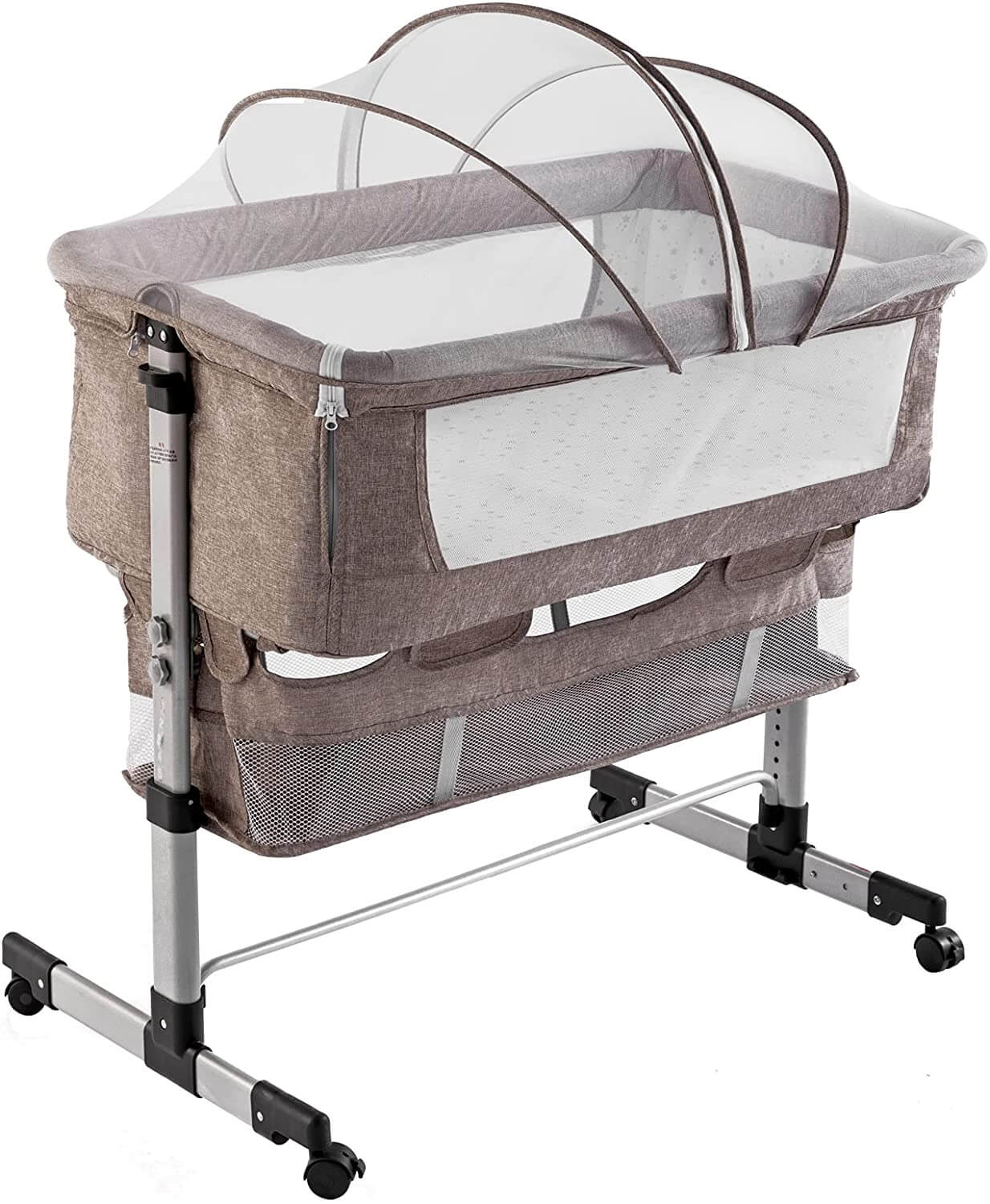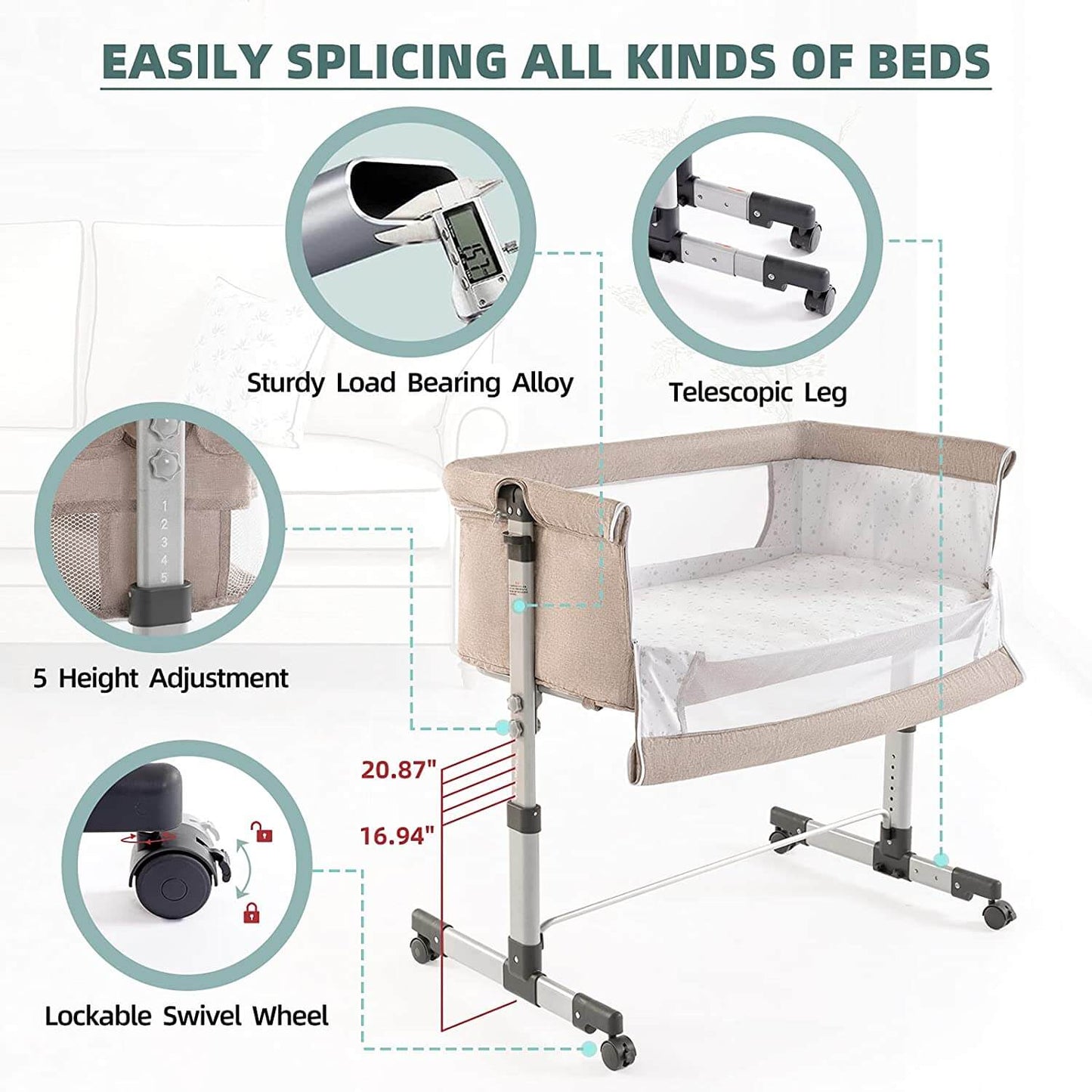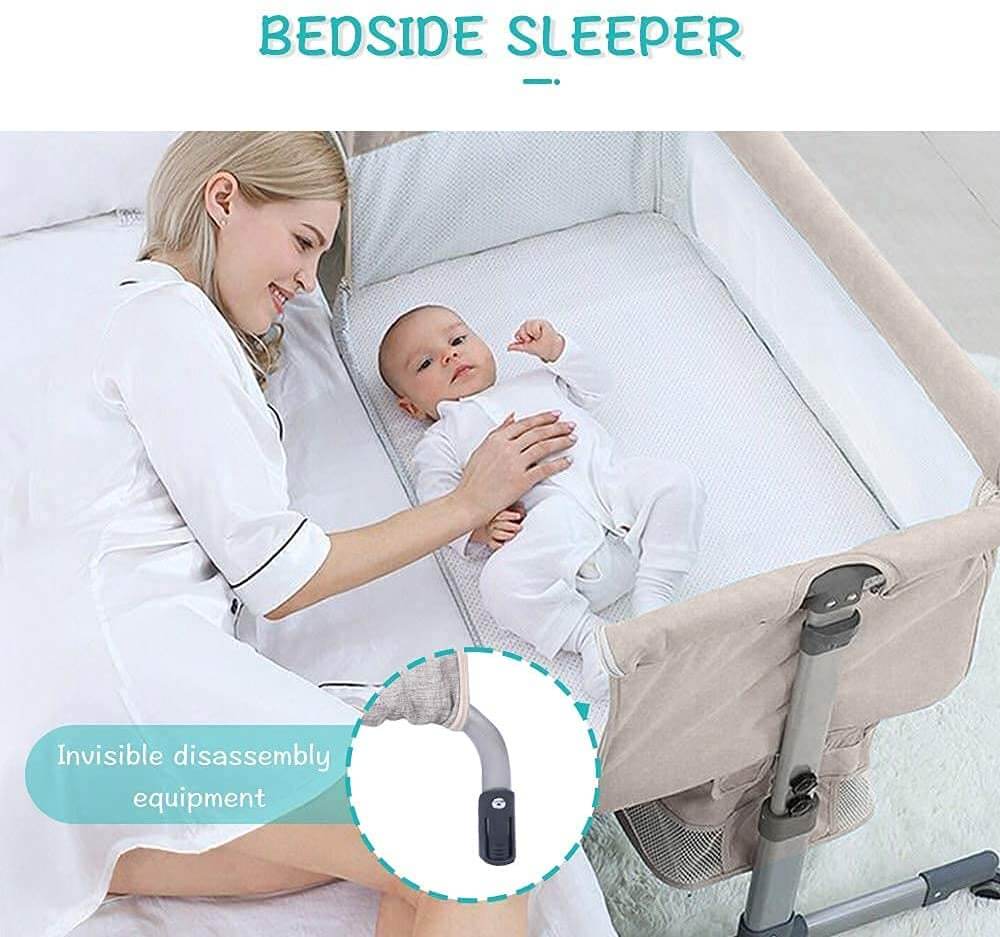 Very classy!
This really is all you can ask for in a bassinet! You can sleep soundly knowing your little one is safe from mosquitos if you live in the country like I do, we sometimes get them! The entire bassinet was a breeze to set up I could do it myself even 8 1/2 months preggo!! It fits perfectly next to my bed so when little wakes for a feeding he is right by my side safe and sound! Its beautiful in every way!
excellent!
I really like this bassinet: it's easy to assemble and use, and it can be used as a stand-alone bassinet or a co-sleeper. The hight is adjustable, and the bassinet has wheels so you could easily move it around if needed. I like the mesh sides that allow airflow, and I love the canopy (sometimes the sun is a bit too bright!), and included mosquito net is a plus. We are using the bassinet indoors, but I could totally see it outside in the warmer months, and it's nice to have the baby protected from insects.
I'm a little on the fence about this bassinet...
On one hand it is a cheap alternative to the more expensive bedside co-sleepers coming in at almost half the price. The things I like about it are also double edged and add to issues I have with it. It is significantly lighter than a Halo bassinest that isn't meant to be moved but utilizes a 360 spin radius. With the lightweight and easy to move positive also comes my negative. The side unzips and just dangles off the side of the bassinet and there is no safety there for a small little one. The bassinet just moves too easily, even with locked wheels, it moves. It's great for around the house so baby is always near you because it glides so easily. The mattress is very well padded. The fold up and assembly is incredibly simple and if you'd prefer not to get a pack n play for a while this is incredibly easy to take down and set up for travel. The canopy is a bit fiddly and is basically just a gigantic piece of elastic that holds it to the bassinet. It does have a zipper in the center so if you do use this in the warmer months you can protect baby from bugs. I do like my bassinets to feel sturdy, after all it is a piece of expensive baby equipment I am essentially trusting my newborn with and this to me just didn't have the stability or safety that I was really wanting. Thus far I've mostly used it as a portable house bassinet over it's actual intended use of bedside co-sleeper. I'm just not confident enough in it. As far as the mesh storage bin underneath the bassinet itself, it holds quite a bit but due to the lack of space to remove larger items without having to lift the bassinet bottom up I find it a so so added attachment.
Muy buena mi bebe la ama
First one arrived with a rip in the shelving unit that goes under the bed, but it was replaced hassle free. Pretty easy to move around and access. Becomes nice and compact for storage as well.
A necessity for a new parent with a newborn!
I'm so glad I purchased this bedside bassinet. Nights with a newborn are tough but this helps make sleeping possible! Very easy to move around the house with a nice storage compartment on the bottom. It's sturdy and easy to assemble. My little one sleeps well in it and I'm able to see him easily with the side screens and the movable side piece. We will continue to use this for a while!